The park as a common good for Athens.
Route: from the entrance across the cafe following the paths of the park, up to the high school.
The action was part of two-day actions-interventions organized by the Residents Committee of Plato's Academy "we fight-claim-demand". Archaeological Park: Open -Free Culture area. Fight for the quality of life. We defend the common. We create communities of active solidarity"
To keep the park open -free and non-tradable, an alternative destination for Athens.
It was a unique experience through the spring landscape initially with the children who had come with small crafts they created with Ioanna and placed them on the trees at the park entrance and afterwards walking together in a unique landscape with olive trees, Judas trees, plane trees, Daphne plants, and other plants.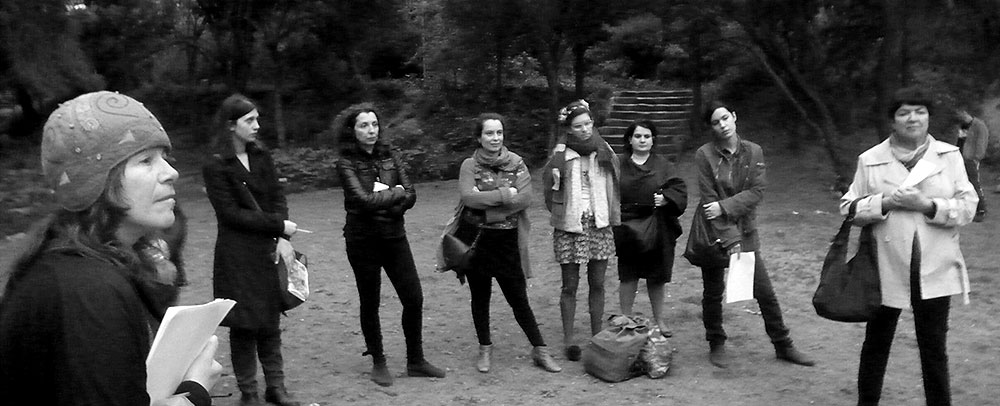 It was a way to feel the area of Plato's Academy and its importance through poems and songs, which we chose for the area, as well as to become a temporal community. There was a harmony in these narrations under the trees and next to ancient ruins, in this area with such strong memory, walking next to other people who participated in other actions or walked in the park, ending up in the high school. There, after all the narrations were completed, we shared wine and orange spoon sweet that Angelos brought, made by him, to thank us. Many times, while we were passing plateaus where there were many people, the voices suddenly disappeared and the quiet we needed prevailed. Through this action we understood how important is the park to remain free and non-tradable, an alternative destination for Athens, a valuable good.

The following poems and texts were read out:
Call me by my true names, by Thich Nhat Hanh (choice of Nikos Anastasopoulos), Instant metaphor of the garden as a paradise (Giorgos and Orestis Tzirtzilakis), you miss its shadow, from the "Thousand Years And One Day" by Kostas Paparounas (choice of Jilly Traganou), Sonja, Melanie, Ljuba  by Angelos Skourtis, Dynamosis by K. Kavafis (Georgia Preka), Egg or landscape by Nanos Valaoritis (Christina), Excerpts from The Small Ones of Giorgos Douatzis (Aglaia Komninos), The sea bottom of Effie Ailianou (Daphne), We Have Every Right To Sleep, Dog by N. Karouzos (Nikos Kazeros), Performance Under The Tree by Christina Thomopoulou, Papalangki does not have time by Erich Soerman (Ioanna Goumas), At the end of the beginning of the century (Eleni Tzirtzilaki ), the texts for Yalova lagoon at Pylos by Ismini Karyotaki and Love is another concept to understand the power output of the common from the Common Wealth by Antonio Negri.