Location: empty plot at Sophocleous and Ampelokipon Street
A small mountain of soil. Spades on its top. Moving bodies, empty it slowly. They transfer it. A team that digs. A Hecatonchires excavator. The music embraces me, transfers me. Atzarouli, teslouri, kartouzi, svanouri. The association of Georgians in Thessaloniki 'Georgia' cooks khinkali for the Nomadic Architecture Network. We make a garden in Stavropouli. Architects, artists, agronomists, technicians and workers of the Municipality, residents of the neighborhood. We plant sage, sour orange trees and magnolias, benches and tables were assembled by findings of Pavlos Melas military camp warehouse: Stock of old playgrounds, tires from military vehicles, rollers, planks and boards. Next to us the kids of the football Academy of Hesperus Terpsitheas were training. Four to eight years old kids and dedicated.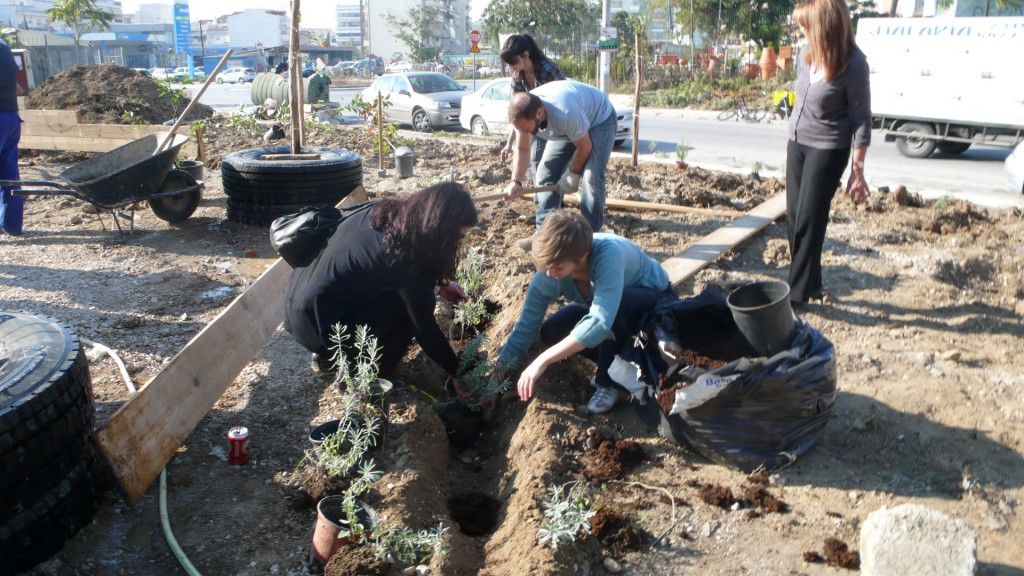 On October 30th the Georgians of Thessaloniki will trample grapes in a cauldron and they will make must-jelly, they will have dance and ballets, Kakhi Kakhiashvili will lift us into the air. We are all invited.
Sophia Vyzoviti, architect
The action was part of the conference "Public Space … is sought", October 20-22, Olympion Thessaloniki.
The action was inspired and organized by Orestis Pangalos and Eleni Tzirtzilaki. Participants were students of Fine Arts, Architecture, architects, residents of Stavroupoli Municipality and the Association of Georgians.